Meeting room furniture, lighting, curtains, decor and environmental control can all be part of our project brief.
The installation and integration of equipment including all cabling and control requirements into the room and furniture, is a task where our expertise and innovation adds value to your finished room.
VisuComm offer a range of rear projection solutions.
These inclue 50 and 67-inch rear projection modules with a range of resolutions from XGA to UXGA (1600x1200 pixels).
Projection modules are ideal for very prestigious rooms with a high corporate profile.
Also for rooms with high use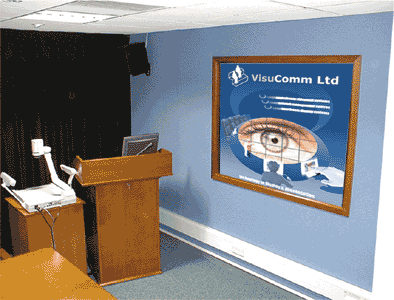 Photo courtesy of US Army in UK.
Features a 67inch Clarity rear projection screen.VisuComm refitted room with redecoration, lighting, all cabling and furniture.
A Magician Boardroom Controller with dual touchscreens, one on lectern the other at the head of the table, provides full room and A-V equiment control via a Crestron controller.
Magician processes multiple data and video inputs and interface for video conferencing
Both touchscreens provide full preview and cueing for selection from these multiple inputs, controlling switching for display on the large screen and transmission over the video link for multi-site meetings.